In the News
Possum Tail Farm was featured in the food section of The Dominion Post last week.  The article focused on our symbiotic relationship with Terra Café.  Next time you are in Morgantown, check them out.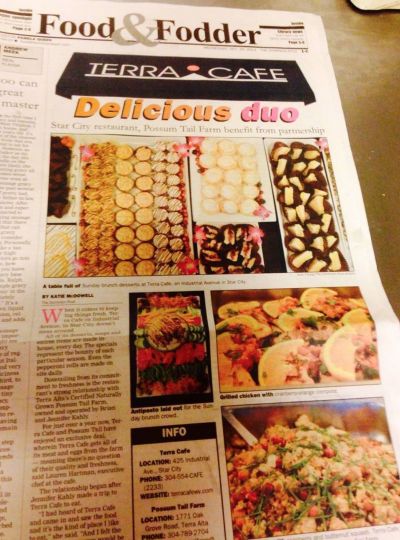 Regenerative Agriculture
Last month we started a conversation about what we are doing on the farm to improve the land rather than simply sustaining it.  Folks usually want to know if our animals are ever given medicines or antibiotics.  We do not use pharmaceuticals on our farm.  Instead, we focus on strengthening health.  The most important thing we do is provide quality, organic grade, free-choice minerals.  This helps fill any nutritional deficiencies not provided by their forage.  This mineral balancing process directly results in remineralizing our pastures,  healing deficiencies one cow patty at a time. ( smile)   
Thanksgiving Turkey
We have a few Turkey's left.  Give us a call to arrange for pick-up.  They average 18-20lbs and are $4.75/lb.  As always, our poultry are Certified Naturally Grown and raised on pasture.  They are GMO, pesticide, herbicide, persistent pesticide and fungicide free and are not treated with hormones or antibiotics. 
Cattle Corner
We will have beef available for awhile.  See Deliveries below.
Egg CSA
Remember how we didn't have eggs for like....the whole summer.  Well!  We have sooooo many eggs now.  If your fridge has been  harboring meager, dull yolked eggs we may have a solution for you! We have eggs on the farm, we deliver to Oakland every other week AND you can now get our eggs at the Mountain People's Co-op in Morgantown and All Things Herbal in Fairmont.
Chicken
We have frozen chicken available on the farm for a little while longer.
Deliveries
We deliver to Morgantown every week and Oakland, MD every other week.  Call or e-mail to place and order for pick-up at one of those locations
Just For Fun
There are many things our children will not have because we have  chosen to make our living from the land in a rural area.  No, operas, symphonies, there aren't even a whole lot of kids around here.  Arianna recently set her heart on getting a pony.  I know, I know....every girl wants  a pony.  I sure did.  But I grew up in a suburb where I was as likely to get a pony as spot a unicorn.  But, guess what?  When you live on a farm a pony is totally not a big deal.  Jules-the pony- fits right in!  That is farm life for you!  (here is the small print-Arianna had to give away her rabbits and duck to get the pony.  So, if you were hoping to get rabbit meat, our totally unsuccessful adventure is over-for now)
Family Life
Jennie's brother James has come to help on the farm for a couple of months.  We are grateful for his keen observations, helping hands and willing heart.  We hope to convince him to stay through next summer!
Our Best to You!
Brian, Jennie, Arianna and Aden Kahly
---